I thought I wouldn't be emotional dropping Connor off for his first day of preschool, I really did. (You'd think I hadn't met me, wouldn't you? I'm a crier.)
Now, I'm not saying I did cry. But it's possible I had something in my eye and had to sneak to the back of the classroom and go into the bathroom to get it out.
I blame the damn classroom, actually. It looked like a classroom. I was thinking he was just going to preschool, so what's the big deal? It's not any different than dino camp, right?
Right.
Except we got in there and it totally looked like a classroom and I realized my big little boy is going to school.
It didn't help that he was nervous. We had some cuddles before the door opened and then when it did and all the kids started going inside, he wanted up. And I didn't want to carry him into preschool. I thought for a minute we were going to have a meltdown right there outside the building, but I got smart. I convinced him to take my hand and give his other hand to Daddy. He went for it, so we all held hands and walked into preschool together.
It's too bad that speck of dust got in my eye and I had to regroup in the bathroom.
He had a great day, as I knew he would. This kid is made for preschool.
***
Linked up with: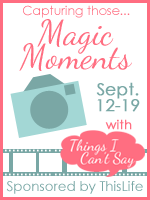 And with: