Early this morning I got an email from the organizers of the TEDx event I spoke at. "Your talk is up on the TED website," they said nonchalantly, as though that one short sentence hadn't just caused my heart to skip a beat.
Before I had even watched it, my husband had posted it on Facebook. I did sort of want someone to watch it and tell me what it was like, but that wasn't quite what I had in mind…
"Did you watch it?! Is it awful?" I asked him.
"I saw it live. It was great," he replied.
Husbands are so not helpful.
I was nervous. This is me crying on stage in front of strangers and it was posted on the TED website. I started to watch it, panicked, and stopped. I boiled the kettle and considered pressing play again while I was waiting, but wasn't quite ready. Finally, with tea and toast in hand, I sat down to watch it.
I'm not sure how I expected to feel about it. Proud, I think, which is how I felt after the event. But I have to be honest: other things are outweighing the pride right now. I know I've written about all the things I spoke about  – the tears, the rage, and the accusations – but for some reason having this video out there is…different.
But I'm going to share it with you anyway.
It is what it is and this is my story.
(If you don't want to watch the whole thing, the juicy part starts at the 4-minute mark.)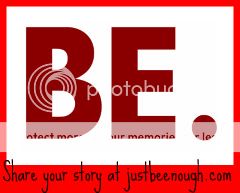 And speaking of being enough… Did you see my piece on Band Back Together about the origins of Just.Be.Enough?
And next week I'll be at Just.Be.Enough. on Monday hosting the Be Enough Me link-up. Join us!
Write, post, link-up, share your story and your voice.
Be part of carrying the weight of confidence and share our mission
to empower, inspire, and remind women, parents and children
that the time has come to celebrate ourselves!
Next week's prompt: Five Things That Make You Smile

(Remember you can also write on a topic of your choice.)