We interrupt the previously scheduled suckage to report that today is my SITS day! Any non-bloggers who read this may not know what a SITS day is, so if you want to skip past this I won't hold it against you. But since I know my mother will ask, I'll provide this link to the SITS Girls about page that talks about their mission and what they do with featured bloggers.
So with that out of the way, welcome!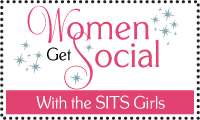 Here's the Coles notes version of this blog:
I started blogging in January 2011 as a way to deal with the lingering effects of postpartum depression.
I blogged about my worst day, how I fired my psychiatrist, and how I almost lost my marriage to postpartum rage.
I did a TEDx talk about it.
(If you want the whole year in review, you can get it in this short(ish) photo post.)
I got better eventually and, because life's not challenging enough, decided it was time to make a change I'd long resisted and moved with my family to a new city 600 miles away from where I grew up (and where my parents still live).
At first it was awesome.
But right now it's kind of hard.
I haven't written much about all the stuff that's going on, but I will, and hopefully soon. So stick around, will ya?
And just for fun – some random stuff about me:
So that's me. It's so nice to have you here – please help yourself to milk and cookies. (What? I have a 3-year-old.)
If you'd like to leave me a hostess gift, I'd love it if you'd leave a link in the comments to your most honest post. I love it when bloggers put themselves out there (I did a SITS guest post about it) and, frankly, I could use a little inspiration.
Thanks for coming by!