Remember when I revealed this pregnancy and made reference to my unexpected reaction to it? I thought I'd write about it sooner but so much has been going on and, honestly, I wasn't really ready to try and describe it. I've been thinking about it again lately though, and decided it was time to tell that story. So today on Just.Be.Enough I'm hosting the Be Enough Me link-up and telling you about how I felt unworthy of being given a chance to become a mom again.
Come and visit me over there!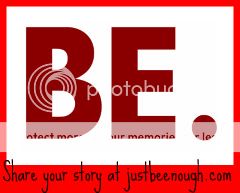 Comments here closed.