I got another email the other day, this one from a friend-of-a-friend sort of person. She had found my blog thanks to Reader's Digest naming me one of Canada's top mom bloggers (and yes, that was unexpected, but what I was especially happy about was that it was my writing about postpartum depression that they highlighted). The email was of the thank-God-I'm-not-alone types from someone who previously dealt with postpartum anxiety and is now struggling with antenatal depression and just really isn't sure where to turn.
When I got the email I was just closing my computer to take Connor out for some fun with my sister and my dad and he was getting impatient. But I saw the name and the subject line and I paused, hoping I could put the excited child off a moment longer.
I keep every email like this that I receive – the ones that say thank you for sharing and for being so honest. The ones that say can you help me? And the ones that say I just didn't know and I thought it was just me.
Because I know. I know what that feels like and I know how sometimes it's impossible not to reach out and say thank you (like I did with Katherine after I found Postpartum Progress). And when I get those emails it affirms that it's okay to write about these things, which is a reminder I sometimes need, especially lately when I've been feeling like I lost my words.
I've been feeling a little bit vulnerable. Before the Reader's Digest thing, but especially so since. I'm so, so honored, especially given some of the other bloggers on the list. But that's the sort of thing that tends to get spread around. I posted it on my own Facebook page (and I rarely share blog content or related things there) and it got shared by my family and some friends. Which is how the friend-of-a-friend thing tends to happen.
In this case it actually went beyond that. I work with my brother who, evidently, is friends on Facebook with a bunch of other people we work with. Who now know about my blog. Some of them said, "That's cool! I'll have to check out your blog," (and I thought oh god…). Some of them did read it and said only nice things like, "It's great that you're so open" and "You're a great writer." Which are lovely comments, but there's always a part of me that wonders if they're really thinking, wow, you are messed UP.
But you know what? That's okay. Some days I'm totally messed up, but so are most people in one way or another. And I'd rather be messed up and working on it and, better yet, helping others in the same boat than holding it in for fear of what others think. I did that for too long and it backfired, making me more messed up in the short term and causing this to be more of a long-term problem than it would otherwise have been.
So I'll write and whoever wants to can read. And if one of those readers finds something helpful here and sends me an email, so much the better.
Write on.
Linked up with Just.Be.Enough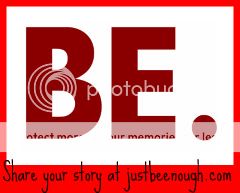 I've also got a post on Just.Be.Enough today about some awesome lyrics by a great Canadian band. Come visit!