I looked at my WordPress year in review and it told me I had 30 new posts in 2014. Thirty. 30.  That seemed a ridiculously low number to me until I realized it was less than one a week and then, frankly, it seemed high. I really didn't write a lot last year.
I've sort of lost my writing mojo. I started feeling vulnerable for reasons I haven't fully determined (or perhaps have chosen not to fully explore). I would start to write a post in my head and not get past the first sentence. First paragraph, sometimes, but mostly the words just never came together. I wrote a lot of posts in my head that way—far more than 30—but it's not a terribly productive approach.
I closed out 2014 with a little bit more inspiration than last year, though not my usual, perhaps over-exuberant, dose. As of this fourth day of the new year I have all kinds of goals and plans and no shortage of sources of motivation, because, dammit, I'm ready to get back to feeling inspired. And one thing I'm going to do is create some of that inspiration for myself.
In my very early blogging days, I used to do regular posts under the Hello, Inspiration heading. They featured things that inspired me, like the ones that seemed to appear when I needed them or those that came up in several different places as if to say pay attention. After a while I just randomly tagged things with that category when it seemed to fit, but I'd like to go back to deliberately sharing things that inspire me. So here's the first in the official series of my sources of inspiration, which I'm hoping to update weekly.

One thing I love is amazing photography. Not long ago I found the Facebook page for a photographer named Neil Zeller who is local to me, and his shots are amazing. Breathtaking in the most literal sense of the word. He photographs things I love, like mountains…
…and cityscapes…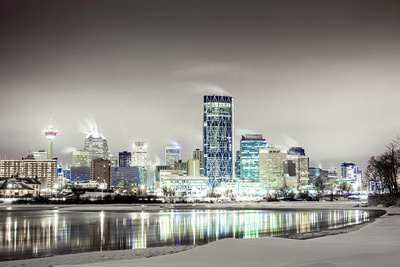 …and our tower, which I have such sentimental, childhood feelings about. I have to get a copy of this print:

He also shoots trains (oh my heart):
…and scenes that are so stunning it's hard to believe they are from this same planet where we do mundane things like buy groceries: Neil's images fill up my Facebook feed, and I like them all so he knows they're appreciated (and so Facebook's fancy algorithm will keep showing them to me). Seeing them creates the sort of pause in my day—the deep-breath, contented-sigh kind—that I so desperately need. The first shot above is one from his Aurora series, which might be my favourite. Seeing that is on my life list, and I'm inspired at how often he manages to catch this sight. Maybe one day soon I will as well.
All images © Neil Zeller Photography