When we initially started talking about buying our first house, my husband thought it sounded dreamy to buy a fixer-upper we could work on ourselves.
I told him he was crazy.
This was almost 10 years ago, mind you. Before dog, before kid, before we were married, even. I think it's safe to say life was simpler at the time, and yet I couldn't imagine diving into a reno and trying to live in the house at the same time. Thanks but no thanks. No way, Jose. Not a chance.
In the end, somewhat ironically, we bought a house in a new development. We picked the colours, the countertops, the cabinets. We watched the walls go up and the windows go in. When it was done, we moved in knowing we didn't have to do anything. We didn't even have to change a lightbulb.
Fast forward 9 1/2 years and we're living in what feels like a construction zone. We're sprucing things up and fixing things that need to be fixed after inhabiting this space for this many years, more recently with a precocious child who likes to make holes in things and draw on walls. (Magic Erasers are my new best friend.) It's not a massive undertaking, but it's starting to feel like it.
We started some of this work in June and then promptly abandoned it (long story), so we've been living with spackle-filled holes above our shower and a few other things as part of the scenery ever since. But about three weeks ago we started again in earnest. More holes have been patched, sanded and painted. A wonky skylight no longer looks as though it might share the next heavy rainfall with us. Furniture has been pulled into the middle of the room so we can tackle walls and baseboards.
It's no large-scale kitchen reno, but it still feels like a construction zone with paint brushes in the kitchen sink and a layer of dust on everything thanks to post-spackle sanding.
Today my husband boldly climbed up to the skylight in our ensuite and fixed the seal around it. Which, understandably, involved the creation of a really big mess. He cleaned it up fairly well, but it will have to be sanded and painted tomorrow so there's no point getting picky about things tonight. Still, I had to do some sleuthing before bed to figure out where my toothbrush went.
As I brushed I noticed the debris around the sink – pieces of wall and putty and dust and goodness knows what else. Then getting into bed I saw that our duvet was covered in grit. Well, shake it off. Literally. I picked it up, gave it a shake and dumped the grit on the floor.
The mess is temporary, but it's driving me batty.
I realize this is all a big whine about something insignificant. Something I should be (and am) grateful we're able to do. In fact, I'm especially grateful for all the work my husband is doing right now – that he's able to do it all himself and working hard to get it done quickly is not something I take for granted. So yes, this is what you might call a first world problem.
But here's the thing: I don't do well in this environment. I get squirrelly enough with clutter – I create my fair share of it, but it makes me crazy. So this is all a bit much.
Every night around 7:00 my husband and I start to get snippy. The cranky cues are subtle – a short fuse when it comes to noisy toys, less patience for repeated requests for a TV show we both hate, and the undercurrent of Oh-God-we're-never-going-to-get-this-done-and-I-can't-take-it-anymore in our conversations.
I know – am aware with every fibre of my being – that I could very quickly become a nightmare to live with right now. But I'm determined not to go back there. I am trusting this process to get us where we want to go and in doing so I'm focused on finding a way to live with it – a not insignificant effort that will involve more mood control than I'm usually able to muster.
This is important though and, yes, temporary. So until we're done I will find a way to overcome the craziness and just be.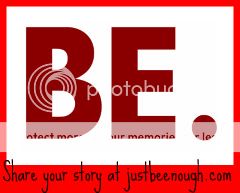 Every MONDAY join us…
Write, post, link-up, share your story and your voice.
Be part of carrying the weight of confidence and share our mission
to empower, inspire, and remind women, parents and children
that the time has come to celebrate ourselves!
Next week's prompt: "I knew I had to…."
(Remember you can also write on a topic of your choice.)
Also linked up with Just Write.