So remember how I said I was going to read as a focus for March? One of the things I didn't anticipate was that I'd get so sucked into reading really good stuff that it would make me critical of my own writing. I've never been one to write and edit and revise and edit some more; I just hit publish. (Perhaps you've noticed.) So now I have posts in draft and I don't want to publish them until they're perfect. But what is perfect when it comes to writing? There is no such thing.
Hey, maybe I can publish them and revise them later and the publish them again as an exercise in improving my writing… Yes? No?
I digress.
Luckily Elaine and Heather have saved me for the time being with something fun they're calling Old School Blogging.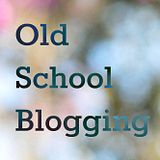 Nice! This I can do. So without any further self-doubting rambling, here's my response to the meme.
What were you doing 10 years ago?
I was working in human resources at an astrophysical observatory and thinking that perhaps I should have paid more attention in science classes.
What five things are on your to-do list?
I love how this presumes I only have five things on my to-do list. Here are the oldest items:
1. Send my passport renewal in. You know, the one I've had sitting around since July of last year (after Passport Canada sent my first application back because they didn't like the photo. Heck, I didn't like the photo either but I was willing to have it in my passport for five years).
2. Get the windshield on my car replaced.
3. Get the muffler on my car replaced.
(Anyone want to come and do these things for me? I hate doing car stuff.)
4. Submit the last few address change requests. What? We've only lived here for a year. And a bit.
5. Order a birth certificate for Ethan. (Apparently Alberta makes that more difficult to do than BC did. As in we have to actually find the application form online, fill it out and then take it to a registry office in person instead of being handed a form in the hospital and have a snazzy certificate sent to us not long after. I now understand why my birth certificate shows that my birth was registered several months after the fact. I used to think my parents were deciding whether or not to keep me.)
What are five snacks you enjoy?
Green smoothies. (Why was I scared of these for so long?)
Chocolate coconut bite things made by Dole. They're way too easy a snack, especially when I need something I can eat with one hand.
Toast.
A late-night bowl of cereal.
Cool Ranch Doritos. (But not Coke, because I finally gave it up. Yay me!)
Name some things you would do if you were a millionaire.
Is it sad that a million bucks doesn't sound like enough to do what I want to do? I would:
Buy a fabulous house.
Buy a summer place somewhere.
Travel a lot.
Donate more to charities.
Put money aside for my kids' futures.
Name some places you have lived. 
I've lived:
In a waterfront house with a hot tub by the ocean.
In a building that looks like a castle.
In a house on a street named after a fruit.
In a one-bedroom basement suite with a very cute boy and two cats.
In an old-school university dorm room.
(I know those aren't technically places, but I haven't moved all that much so this is more interesting.)
Name some bad habits you have. 
Not following directions (see above).
Procrastinating (see above).
Being lax about editing my own work (see above).
Not exercising as much as I ought to.
Spending too much time on Facebook.
Name some jobs you've had. 
You had to ask, didn't you?
Ice cream truck driver. (Seriously.)
Telemarketer. (I wish I were kidding.)
Baskin Robbins ice cream scooper. (I've lived a glamorous life.)
T-shirt salesperson.
Hotel front desk clerk.
Communications director. (Does that make up for the other stuff?)
That was fun! What are some of your answers to these questions?